Easter Celebration at Hilton Guam Resort & Spa
March 27, 2023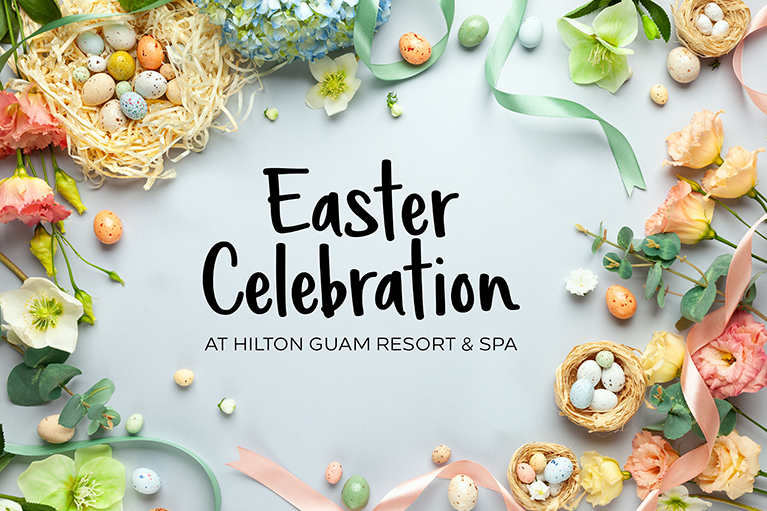 TUMON BAY, GUAM, 27 March 2023 – Celebrate Easter at Hilton Guam Resort & Spa with dining indulgences and fun activities for the little ones.
DINE AT ISLANDER TERRACE FOR EASTER BRUNCH: – Islander Terrace's Easter Brunch Buffet has an irresistible spread featuring international cuisines that include whole roasted pig, baked salmon, herb roasted ribeye, herb roasted turkey, unlimited sushi and sashimi, soup and ramen stations, omelet and waffle stations and a variety of seafood selections. Desserts include vibrant and delicious desserts such as carrot cake, blueberry lemon cheesecake, raspberry white chocolate cheesecake, taro cream puffs and so much more! Easter Brunch at Islander Terrace will be on Sunday, April 9. First seating at 11 am and second seating at 1:30 pm. Buffet prices are $70* per adult and $35* per child (ages 5-11). You can reserve your table by calling 671-646-DINE (3463) or at OpenTable.
Sp-EGG-tacular ADVENTURE: Kids will enjoy the Easter Egg Hunt with special appearance by the Easter Bunny! "Hop" your way to the Cliffside garden at 12 pm and 2:15 pm for the egg hunt. The Easter Egg Hunt Categories are 1 - 4 years old, 5 - 8 years old and 9 - 12 years old. The Easter Egg Hunt is free to Islander Terrace Easter Brunch guests (must show proof of dining). All other guests who wish to participate in the Easter Egg Hunt will be required to pay a $5.00 entry fee per child at Caffe Cino. Easter Egg Hunt Prizes are as follows:
Gold prize: One (1) Kids Pool pass, one (1) Inflatable Beach Ball, one (1) Caffe Cino Ice Cream coupon and one (1) Bag Chocolates/Candies
Silver Prize: One (1) Plastic Mason Jar filled with candies, three (3) Cookies at Caffe Cino and one (1) Caffe Cino Ice Cream coupon
Bronze Prize: One (1) Kids Beach Bucket filled with candies and one (1) Caffe Cino Ice Cream coupon
SPECIALTY DESSERTS AT CAFFE CINO: Adorable Easter sweets and treats are available daily to take home to share or give away as gifts. The desserts include Carrot Cake (Large $40*, Petite $6*), Lemon Poppy Seed Cake (Large $45*; Petite $5.50*), Blueberry Ganache Tart ($6*), Baklava ($5.50*) and Shortbread Cookies ($3*). Special occasion cakes are also available to order 48 hours in advance.
Don't miss out on Caffe Cino's Easter-rific drinks, Caramel Choco Frappe ($7*), Bunny Double White Chocolate Frappe ($7.50*), Fruity Kiwi Berry Smoothie ($7*) and Raspberry Hazelnut Smoothie ($7*). These heavenly drinks will be available on April 4 – 23. For more information, please call 671-646-1820 ext. 5355.
To stay up-to-date and discover more of the special events and exciting promotions at Hilton Guam Resort & Spa, please connect with us on Facebook, Instagram and Twitter or call us at 671-646-1835.
*Price subject to a 10% service charge. Discount applicable to PHR Club, Military and Senior Citizens (ages 55 and above at Islander Terrace Terrace Easter Brunch only). May not be combined with other promotions and discounts. Price may be subject to change without prior notice. Restrictions may apply.