A Heartwarming Thanksgiving Celebration at Hilton Guam Resort & Spa
November 14, 2022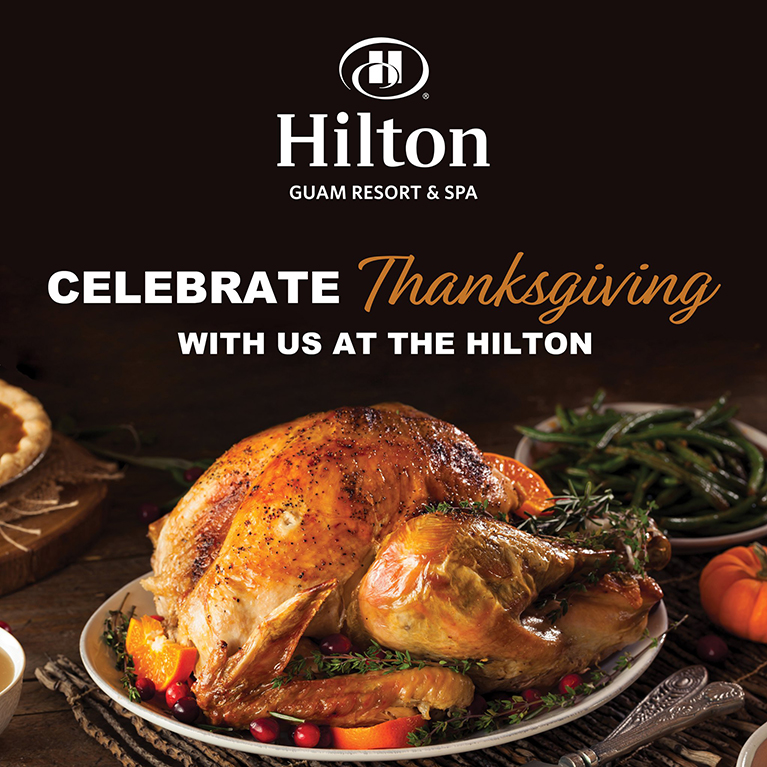 TUMON BAY, GUAM, 14 November 2022 – Hilton Guam Resort & Spa is offering scrumptious Thanksgiving fare this season!
ISLANDER TERRACE RESTAURANT - Create lasting memories with family and friends in a special Thanksgiving Sparkling Wine Brunch and Dinner buffets. Savor a repertoire filled with a variety of holiday classics including roast turkey with all the trimmings, prime carving station, seafood on ice and a full selection of entrées, salads and desserts. On 24 November 2022, Thanksgiving Sparkling Wine Brunch is priced at $70* per adult and $35* (ages 5-11); first seating is at 11 am and second seating at 1:30 pm. (First seating is currently sold out, second seating is still available). Thanksgiving Dinner Buffet is priced at priced at $70* per adult and $35* (ages 5-11); first seating is at 5 pm and second seating at 7 pm. You can reserve your table by calling 671-646- DINE (3463) or thru OpenTable.
FISHERMAN'S COVE SEAFOOD RESTAURANT & GRILL – Ring in the festive season and indulge in a 4-course Thanksgiving Dinner menu featuring Crunch Salad with Roasted Cashews, Bouillabaisse with White Fish, Mussels, Shrimp and Scallop; choice of entrée: Whole Lobster Cajun Butter or Certified Angus Beef® Porterhouse and end your meal with a delectable Pavlova with Lemon Cream and fresh Berries. Reservations are limited and must be made in advance. Fisherman's Cove Thanksgiving set menu dinner will be offered on November 24th, 5 pm – 9 pm; dinner menu is priced at $85* per adult. For reservations, please call 671-646-DINE (3463) or book via OpenTable.
ROY'S RESTAURANT – Gather around the table with gratitude on November 24th as Roy's Restaurant hosts an exquisite feast for Thanksgiving Brunch and Dinner. For the 3-course Thanksgiving Brunch, begin with a choice of Pumpkin Bisque or Coconut Crusted Shrimp as appetizer. The main entrée boasts a choice of Turkey Breast Roulade, Prosciutto Wrapped Filet Mignon or Champagne Poached Brazilian Lobster Tail. Finish with a delicious dessert, either a Pumpkin Pecan Tart or Mini Chocolate Soufflé. Additionally, the carefully-crafted Thanksgiving Dinner will feature a 4-course prix fixe menu. Start off the dining experience with the Smoked Salmon Spring Roll and Mongolian Baby Back Ribs as appetizers and a choice of Carrot Ginger Soup or Fried Brussels with Lomi Lomi Tomatoes. For the main course, an appetizing holiday classic Oven Roasted Stuffed Turkey Breast with gravy, Garlic Whipped Mashed Potatoes and sautéed seasonal vegetables. End your festive dinner with a charming and yummy Pumpkin Teacake with Berries, Coulis and Vanilla Ice Cream. The Thanksgiving Brunch seating will be $75* per adult; 11 am – 2:30 pm and Thanksgiving Dinner will be served at 5:30 pm – 9 pm and priced at $85* per adult. Please call 671-646-DINE (3463) to reserve your table or via OpenTable.
CAFFE CINO – Thanksgiving classic desserts such as Pecan Tart ($5) and Pumpkin Tart ($4.50) are featured at Caffe Cino until November 26th. The Turkey or Ham To Go packages are available to order at Caffe Cino until 19 November 2022. Turkey To Go Package is priced at $185* and includes 14-16 lbs. Roasted Turkey, one (1) bottle of Petalo Sparkling Wine, Butternut Squash Soup, Traditional Herb Stuffing, Cranberry Sauce, Turkey Pan Gravy, Creamy Roasted Mashed Potatoes and a choice of Pumpkin, Custard, Pecan or Apple pie. Additionally, the Ham to Go Package is priced at $150* and includes a Glazed Leg of Ham, choice of Cranberry or Pineapple sauce and choice of Pumpkin, Custard, Pecan or Apple pie. For more information and to place your orders, please call Caffe Cino at 671-646-1820 ext. 5355.
For more information, please call 671-646-DINE(3463). To stay up-to-date and discover more of the special events and exciting promotions at Hilton Guam Resort & Spa, please connect with us on Facebook, Instagram and Twitter.
*Price subject to a 10% service charge. PHR Club and Military discounts applicable. Not able to combine with other promotions or discounts. Price may be subject to change without prior notice. Restrictions may apply.