Exciting new offerings at Hilton Guam Resort & Spa
March 2, 2023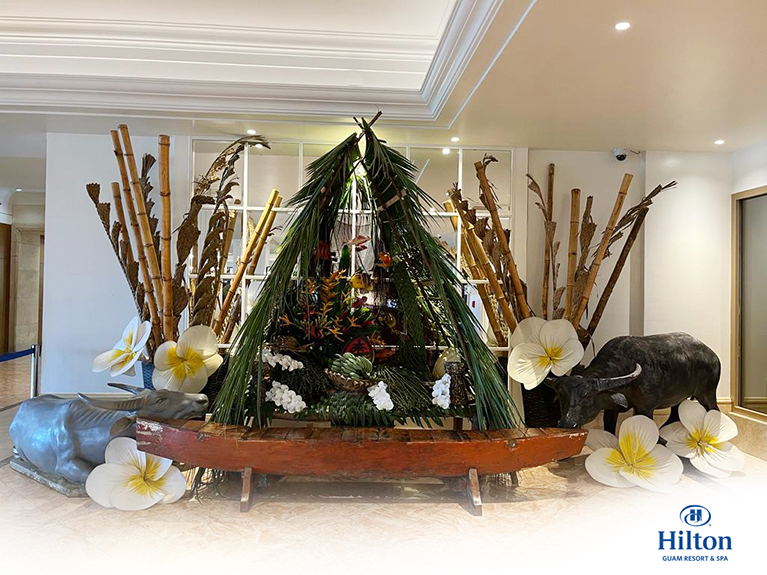 TUMON BAY, GUAM, 2 March 2023 – Take part in Hilton Guam Resort & Spa's delightful new offerings beginning in the month of March! The hotel will be offering several dining specials in commemoration of Mes CHamoru or Guam History and CHamoru Heritage.
Caffe Cino – Enjoy the CHamoru pastries and specialty drinks from March 3 to 30. Drinks include Mango Milk Shake ($7*), Cocomelon Cooler ($6*), Cocoberry Cooler ($6*) and Banana Blueberry Smoothie ($7*). Taste the sweet and savory flavors of Coconut Candy Cannoli ($3.50*), Latiya Dome (Large $35*; Petite $5*), Mango Calamansi Paris-Brest ($6*) and Spam Musubi Danish ($4.50*).
Caffe Cino has also added new superfood items such as the Crunchy Detox Salad (Gluten-free, Vegetarian and Paleo; $9*), Omega Boost Salad (Gluten-free and Paleo; $12*). Superfood smoothies include Spinach Strawberry ($7.50*), Kale Mixed Berry ($7.50*), Pineapple Ginger ($7.50*) and Pink Panther ($7.50*). For more information, please call Caffe Cino directly at 671-646-1820, ext. 5355.
Fisherman's Cove Restaurant – On March 1 to 6, the culinary team will be offering a special Biba Mes CHamoru set menu featuring a choice of Bistek (8 oz. Local Marinated Ribeye) or Fiesta Seafood Trio (Fried Parrot Fish Fillet, Grilled Local Marinated Squid, Grilled Shrimp), side of red or white rice, Buñelos Åga (Banana Donuts) and a glass of Heineken draft beer. The set menu is priced at $55* per adult; 5 pm – 9 pm. For reservations, please call 671-646-DINE (3463) or book via OpenTable.
Islander Terrace Restaurant – Our exclusive CHamoru Lunch buffet at the Islander Terrace Restaurant will highlight the local island flavors, namely Shrimp Tinaktak, Chamorro Beef, Escabeche Fish Mahi, Chicken Estufao, Local Marinated BBQ St. Louis Ribs, Grilled Sausage Chorizo, Chicken Chalakiles and Whole Roasted Pig. Unlimited sushi, salad and desserts will also be offered. The CHamoru Lunch Buffet on March 6th is priced at $40* per adult and $20* per child (ages 5-11); 11 am – 2 pm. To find out more about Islander Terrace offerings, please call 671-646- DINE (3463) or reserve your table at OpenTable.
Sign up for Hilton Honors membership! Enroll online at Hilton Honors Enrollment for free and enjoy the benefits. To stay up-to-date and discover more of the special events and exciting promotions at Hilton Guam Resort & Spa, please connect with us on Facebook, Instagram and Twitter or call us at 671-646-1835.
*Price subject to a 10% service charge. PHR Club and Military discounts applicable. Not able to combine with other promotions or discounts. Price may be subject to change without prior notice. Restrictions may apply.