Valentine's Offerings at Hilton Guam Resort & Spa
February 1, 2023
Enjoy all the exhilarating delights of romance and relaxation at Hilton Guam Resort & Spa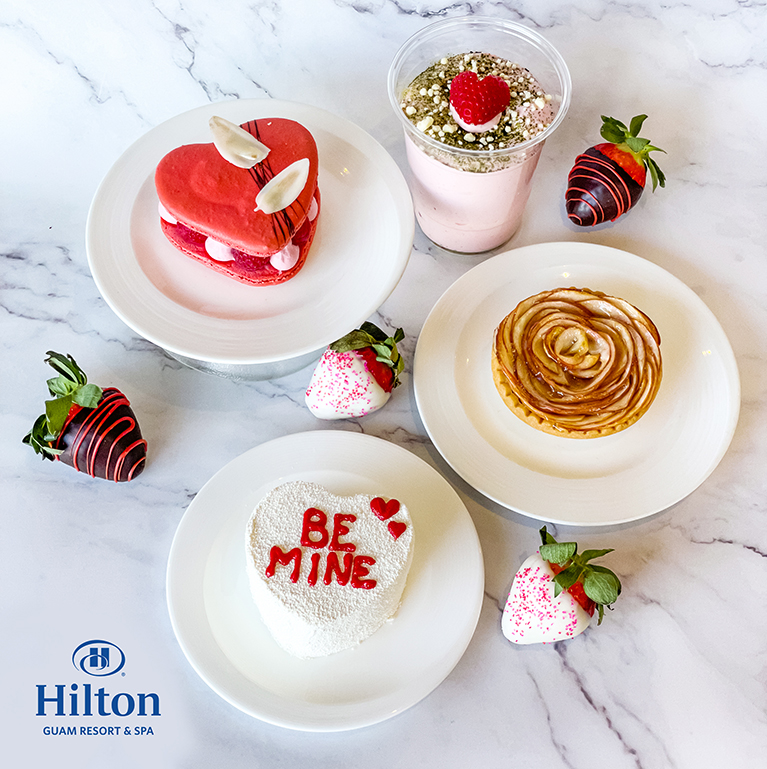 TUMON BAY, GUAM, 1 February 2023 – Where to spend a dreamy getaway this Valentine's Day? Be swoon with Hilton Guam Resort & Spa's celebration of love offerings. Enjoy a relaxing staycation, with overnight accommodations, a daily breakfast for two and bask in the breathtaking views of Tumon Bay. Complimentary access to the hotel's water park and Wellness Center will be inclusive of your stay.
The food and beverage team at Hilton Guam Resort & Spa has dedicated to indulge you with tempting offerings this month of February.
Roy's Restaurant - Pika's 2022 Best Romantic Restaurant Winner will be serving a romantic rendezvous 5-course dinner on February 12 to 14. The exquisite dinner includes Bubu Arare Crusted Scallops, Sweet Potato Lobster Bisque, King Crab Salad, choice of entrées A5 Wagyu Striploin or Chilean Sea Bass served with a glass of selected La Crema Pinot Noir or La Crema Chardonnay and for dessert, Roy's signature Chocolate Soufflé. Whether you're on a date or hanging out with some friends, Roy's also has added a slew of mouthwatering Raspberry cocktails such as Raspberry Vodka, Love Potion, Raspberry Bourbon Smash, Chocolate Raspberry Martini and Raspberry Kiss. Cocktail beverages are available on February 1 – 28 and priced at $12* per drink.
Roy's Restaurant Valentine's reservations are limited and must be made in advance. The Valentine's menu and limited a la carte menu will be offered on February 12 to 13, 5:30 pm – 9 pm. Valentine's 5-course set menu is priced at $115* will be offered on February 14, 5:30 pm – 10 pm. A la carte menu will not be served on February 14th. For more information and reservations, please call 671-646-DINE (3463) or book thru OpenTable.
Caffe Cino has charming desserts and drinks that will help you woo a new flame or make the day feel extra special. Valentine-inspired desserts are available on February 6 to 18. Desserts include Strawberry Matcha Tres Leches ($6.00), Apple Rose Tart ($6.50), Raspberry Macaron Heart (Large $40, Petite $6.50), Chocolate-Dipped Strawberries (4 pieces $6.50) and "Be Mine" Strawberry Shortcake (Large $35, Petite $6)**.
The Pair-fect Match drinks are Strawberry Matcha Creamy Latte ($6), Raspberry White Chocolate Latte ($6), Strawberry Vanilla Frappe ($7*)** and Strawberry Banana Smoothie ($7)*. The specialty drinks are available on February 6 to 28. Caffe Cino's special occasion cakes are also available to order 48 hours in advance. For more information, please check out our cake brochure or call Caffe Cino directly at 671-646-1820, ext. 5355 to place your order or for any inquiries.
Islander Terrace Restaurant – Celebrate Valentine's Day with your loved ones on a dinner buffet and be serenaded with live music by Robert Quenga. Savor the irresistibly delicious local and international cuisines, seafood on ice, carving station and desserts! Valentine's Dinner Buffet at Islander Terrace will be open on February 14th at 5 pm – 9 pm. Valentine's Dinner Buffet is priced at $70* per adult and $35* per child (ages 5-11). You can reserve your table by calling 671- 646-DINE (3463) or book thru OpenTable.
Fisherman's Cove Restaurant - There is nothing more satisfying this Valentine's Day but to savor in a delicious feast featuring the Seafood Boil which includes Dungeness Crab, Lobster tail, Shrimp, Mussels, Clam, Corn, Sausage and Potatoes. Each order comes with house salad, steamed rice and two glasses of Château de Maligny Chablis. The Valentine's Seafood Boil is priced at $115*. A la carte menu and an array of seafood display will also be available for dinner. You can reserve your table by calling 671-646- DINE (3463) or book thru OpenTable.
Tree Bar - Valentine's Day at Tree Bar offers tons of love and cocktails for the wandering hearts namely, Sparkling Float ($8), Heart Break Hotel ($8), Kentucky Cupid ($8*)** and Love Potion ($8)*. Dates are optional!
To stay up-to-date and discover more of the special events and exciting promotions at Hilton Guam Resort & Spa, please connect with us on Facebook, Instagram and Twitter or call us at 671-646-1835.
*Price subject to a 10% service charge. PHR Club and Military discounts applicable. Not able to combine with other promotions or discounts. Price may be subject to change without prior notice. Restrictions may apply.