Southeast Asian & Steak Night Buffet at Islander Terrace Restaurant
May 16, 2022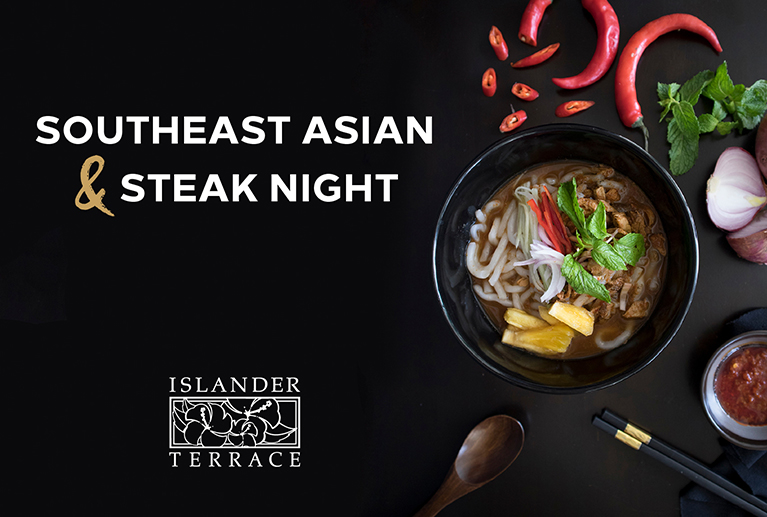 TUMON BAY, GUAM, 16 May 2022 – Islander Terrace Restaurant is bringing flavorful dishes from Southeast Asian countries like Singapore, Thailand, Indonesia, Malaysia, Philippines and Vietnam. Southeast Asian & Steak Night Buffet features a diverse, infused menu that guarantees a feast. Tempting selections such as Grilled Certified Angus Beef Sirloin, Singaporean Beef Stir Fry, Crying Tiger (BBQ Thai Beef), Chicken & Beef Satay, Mee Goreng Mamak (Spicy Fried Rice), Sambal Udang (Shrimp Sambal), Ayam Percik (Grilled Chicken with Perak Sauce), Lor Bak (Penang Braised Pork), Chili Crab, Hainanese Chicken Rice, Thai Salt & Pepper Squid, Vietnamese Lumpia with condiments & Nước chấm Sauce, Shrimp Pad Thai (Thai Style Fried Noodles) and Black Whole Mussel Thai Curry. Every bite from our cold station dishes is bursting with the finest ingredients and variety of bold Asian spices, including Thai Beef Salad, Som Tum Thai (Spicy Green Papaya), Vegetable Summer Roll with Peanut Sauce, Vietnamese Radish & Carrot Pickles and Kangkung Belacan (Stir-fried Water Spinach with Shrimp Paste). The Vietnamese Phở and Tom Kha Gai (Thai Coconut Soup) are nothing but a soup perfection.
Make sure to save room for the delightful desserts namely Wingko Babat (Coconut & Sticky Rice Cake), Pandan Chiffon Cake, Kluai Thot (Fried Bananas), Kuih Bahulu (Malaysian Local Sweet Cake Madeleines), Klepon (Sweet Rice Cakes), Mango Tapioca, Banh Chuoi Nuong (Coconut Banana Bread Pudding), Banh Flan (Vietnamese Crème Caramel) and Crêpe Station.
Free flowing House Red and White Wines, Heineken Draft Beer or Iced Tea are included at the dinner buffet. The Southeast Asian & Steak Night Buffet at Islander Terrace Restaurant will be featured every Monday from 5 pm to 9 pm starting on 23 May 2022. The buffet is priced at $48* per adult and $24* per child (ages 5-11).
For more information, please call 671-646-DINE (3463). To stay up-to-date and discover more of the special events and exciting promotions at Hilton Guam Resort & Spa, please connect with us on Facebook and Instagram.
*Price subject to a 10% service charge. PHR Club and Military discounts applicable. Not able to combine with other promotions or discounts. Price may be subject to change without prior notice. Restrictions may apply.