Islander Terrace Restaurant Introduces Brazilian Churrasco Night Buffet
April 1, 2022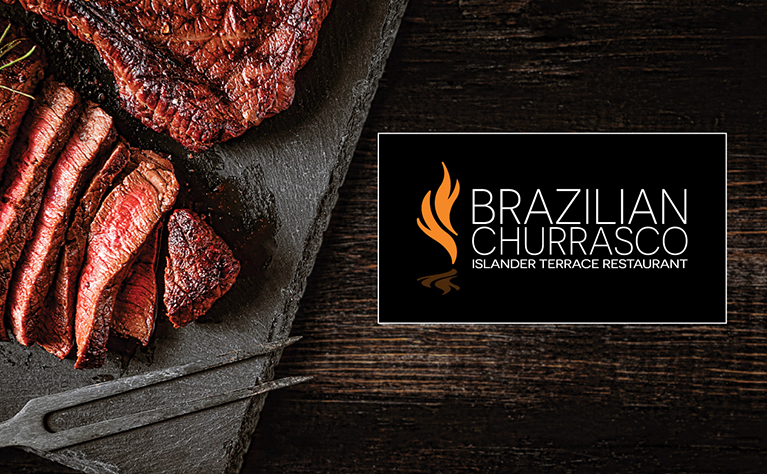 TUMON BAY, GUAM, 31 March 2022 – A bit of South American tradition of taste is coming to Hilton Guam Resort & Spa. Islander Terrace is excited to introduce the art of Brazilian Churrasco every Thursday night starting 14 April 2022. Churrasco cooking technique is roasting high-quality cuts of meat over open flame, all of which are carved by our trained chefs.
Brazilian Churrasco Night Buffet features unlimited servings of simply seasoned meats that are fire-roasted by our talented chefs such as Marinated Skirt Steak, Picanha (Sirloin Cap & Rib Eye), Brazilian Beer-Marinated Chicken, plus other hot entrèes Moqueca (Fish Stew), Macarrão com Requeijão (Chicken Mac & Cheese), Feijoada (Black Bean Stew), Galinhada (Chicken & Rice), Rotisserie Pineapple with Cinnamon Sugar, Kielbasa with Bell Peppers & Onions, Gambas au Alho (Spicy Garlic Shrimp), Brazilian Steamed Rice, Rustic Mashed Potatoes, Roasted Vegetables and Buttered Corn on the Cob. The cold station and salad bar offers a perfect fusion of tasty flavors of Salpicão de Frango (Chicken Salad), Brazilian Leeks, Vine-Ripened Tomatoes & Fresh Mozzarella with Cilantro & Basil Pesto, Herb Couscous, Potato Salad and fresh selection of vegetables and home-made dressings and hot soups. You have to save room for desserts as we feature Brazilian inspired sweets namely Brigadeiros (Chocolate Fudge Truffles), Pastelitos de Guayaba Y Queso (Guava Cream Cheese Pocket), Beijinho de Coco (Coconut Truffles), Brazilian Carrot Cake, Nega Maluca (Chocolate Cake), Cocada de Forno (Baked coconut), Cinnamon Rice Pudding, Quindim (Coconut Egg Custard), Pudim de Tapioca (Tapioca Pudding), Açai Sorbet and Crêpe Station.
In addition to the Brazilian Churrasco Night Buffet experience, find the perfect wine pairing with our House Red and White Wines or opt for Heineken Draft Beer or Iced Tea. Brazilian Churrasco Dinner Buffet at Islander Terrace will be featured every Thursday at 5 pm – 9 pm. The buffet is priced at $42* per adult and $21* per child (ages 5-11).
For more information, please call 671-646-DINE (3463). To stay up-to-date and discover more of the special events and exciting promotions at Hilton Guam Resort & Spa, please connect with us on Facebook and Instagram.
*Price subject to a 10% service charge. PHR Club and Military discounts applicable. Not able to combine with other promotions or discounts. Price may be subject to change without prior notice. Restrictions may apply.